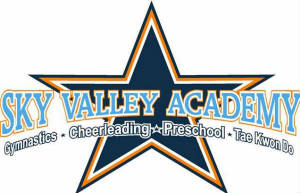 Welcome to Sky Valley Academy's On-line Registration & Class Enrollment!
You must become a Sky Valley Academy Member to enroll for a class.
Your credit card will be charged the annual registration fee or deposit
for the class/camp you sign up for upon completion of your registration.
Gym Membership/Annual Registration is $40.00 for one or $60.00 for a family.
Your child will receive a free trial class upon paid registration.
Preschool Registration $110 for 2's class, $150 for 3/4 and PreK classes. (There is not a free trial class for preschool)
Summer Camp - $50.00 registration fee per camp per child.
Registration in NON-REFUNDABLE
If you have any additional questions please call the office at 360-805-9844
Getting Started:
Annual Registration/Membership Fee +
1st Month (or pro-rated depending on when you start classes) +
Last Month (This will be put on hold and used once you give a 30 day notice)
Last Month Tuition is NON REFUNDABLE!