We Have Always Been Clean, But Now We Are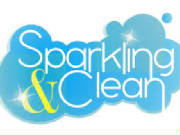 We follow the CDC Covid 19 Safety Regulations
EFFECTIVE 8/12/21 SNOHOMISH COUNTY HAS PUT A MASK MANDATE INTO PLACE FOR ALL INDOOR FACILITIES FOR PEOPLE AGES 5 AND UP REGARDLESS OF VACCINATION STATUS
YOU WILL BE REQUIRED TO WEAR A MASK ENTERING/EXITING THE GYM AT ALL TIMES
STUDENTS UNDER 5 ARE NOT REQUIRED TO FOLLOW THIS MANDATE
Teachers will wear face shields or masks.Health check upon arrival.
Temperature to be taken upon arrival as well as hand sanitizer.
Hands washed after the gym and before snack.
Toys disinfected daily. The number of children will be limited to play in centers.
Hard surfaces disinfected throughout the day. The classes will have the same staff throughout the school year.
Drop off as well as pick up will be at the entrance of each class.
Two's Preschool Class
The Two's class is offered 2 and 3 days a week for 3 1/2 hours. The 2's group is just beginning to use language, learning colors, shapes and how to follow directions. This is a new experience for them, as for many this is their first time being away from their parents. This transition is encouraged through interactive play, songs, letter, sound, color recognition and creative arts and crafts. They will have an age appropriate gymnastics class each day along with play time in the gym. Child must be two years 3mo. by August 31. Ratio 6:1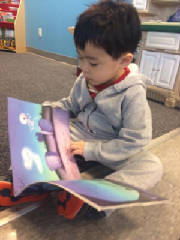 Three's Preschool Class
T
his class is for the 3 year old turning 4 this year. This class is offered 2, 3 or 5 days a week. The three's group is becoming more independent and social. Our "Circle Time" includes working with the calendar, weather, music, and weekly themed literature.
Learning activities include,beginning letter recognition and prewriting skills as well as cultural studies. We will be implementing STEM: science,technology,engineering and math. Age appropriate gymnastic classes with a coach are also a part of our daily program. The curriculum we use is based on each individual child's ability.
Child must be three by August 31. Ratio 10:1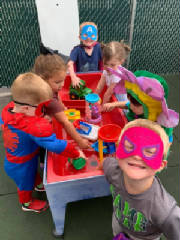 Pre-K Preschool Class
Our PreK class is offered 2, 3 or 5 days a week, half day or full day classes. Our Pre-K class academics include phonemic awareness and writing skills as well as a daily art project. We will also learn about the world around us and different cultures. The class will study STEM: science, technology, engineering and math. We have a variety of centers available for exploration. The class will also be exposed to sign language and beginning spanish.Our "Circle Time" includes learning the calendar, exploring the weather, literature, and music. We have a monthly theme and crafts that coincide with the holidays and seasons. Gymnastics is part of our daily curriculum. The curriculum we use is based on the individual ability of each child. Our goal is have your child excited and ready for kindergarten. Child must be four by August 31. Ratio 12:1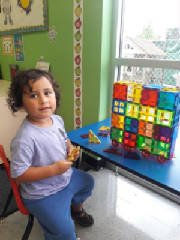 Kindergarten Class
Kindergarten class is offered MWF AM from 8:30 am-12:00pm. Kindergarten aged children hit the ground running when it comes to learning. They are independant and yet still need time to play and explore. This class will get your child ready to enter the 1st grade. Although we are an academically based program we will also incorporate a play based curriculum following developmentally appropriate practices(DAP). We believe every child learns differently so the curriculum will vary depending on the child's ablity. This class will consist of Literacy and Writing, Mathamatics (STEM), learning about the world and cultures, Music, Art, as well as gymnastics, making for a well rounded education. When allowed we will be exploring our town with field trips.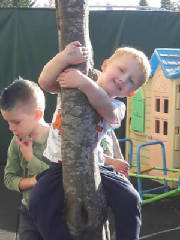 Gymnastics Class

Clothing: Bring a change clothes for gymnastics class or dress for the day in clothing appropriate for gymnastics class. Please be sure to bring an extra change of clothes due to potty accidents.
Gymnastics Class: There is a half hour gymnastics class each day. Our goal is to teach the basics of preschool gymnastics learning beginning skills on vault, bars, beam, floor, trampoline, tumbling pit, rock wall and activities on the floor. You will receive a sheet with skills they will learn during the school year.
Sky Valley Preschool Academy is devoted to help your child develop a love of learning and exploration. We believe each child should be treated as an individual. We strive to give your child the best child centered early education experience we can, both academically and physically. We follow the state of Washinton's common core guidelines including STEM : Science, Technology, Engineering and Math. We believe building confidence and self esteem will help develop a well rounded, confident child.